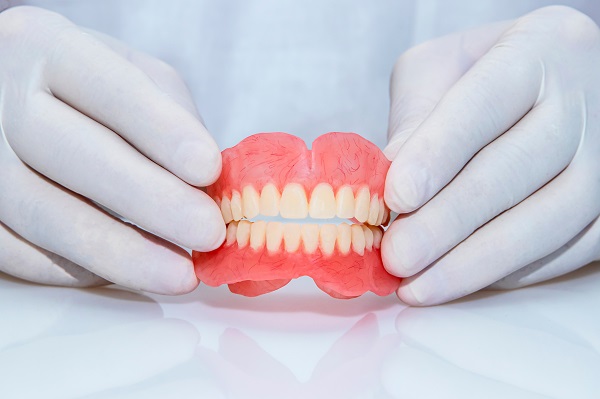 Learning more about replacing or repairing dentures is your next step when you have broken dentures. Since many people depend on their dentures to perform everyday activities like eating and talking, when their dentures are broken, they need to know whether they ought to replace or repair the dentures. Since it can be difficult to tell, making an appointment with a dental professional allows for proper treatment.
About dentures
Think that you would rather repair your broken dentures vs. looking for a new replacement? Your denture choice is important. According to the American Dental Association, dentures make it easier to eat and speak than you could without teeth, and they will benefit your appearance and your health. The fact that dentures play such an important role makes it necessary to choose dentures that fit in with your lifestyle, as well as understand what to do if your dentures were to ever break.
Common ways dentures can break
The list below includes three common ways that dentures break.
Dropping them
Dentures are made out of breakable materials. This means that if they are dropped, it is likely that they will break. Whether it is a small break or a large one, it is necessary for dentures to be repaired or replaced before they are able to be worn again.
Improper care
Even though dentures are made to be strong in order to support chewing abilities, they are still considered to be a delicate dental appliance and therefore require proper care. One of the more important things that denture wearers need to do is to soak their dentures so they do not lose their shape.
Normal wear and tear
Dentures only last for so long: Their expected overall lifespan is about 10 years. Dentures experience everyday wear and tear, which means that they will not last forever and instead will need to eventually be replaced.
Replace or repair broken dentures?
The decision to replace or repair broken dentures depends on a few factors. The answers to the following questions will help denture wearers determine what to do with their broken dentures:
How old are the dentures?
How bad is the damage?
How much will it cost to repair the broken dentures?
How much will the new dentures cost?
Is there another denture choice that may be a better option?
Can we help you?
Have you recently broken your dentures and now wondering what you should do? If you are still not sure whether you should replace or repair your broken dentures, then we invite you to contact us now for more information. We not only can help you make a decision that is right for your mouth, but we can also help you quickly, as we completely understand the need for you to get new dentures or have the broken ones repaired as soon as absolutely possible. Call us if you have any questions, we are here for you!
Are you considering dentures in the Claremont area? Get more information at https://claremontdds.com.
Check out what others are saying about our dental services on Yelp: Dentures in Claremont, CA.
---
Related Posts
June 1, 2023
You may have to send your dentures to a laboratory during a denture repair depending on the type and severity of the concern that is being addressed. This review discusses when …