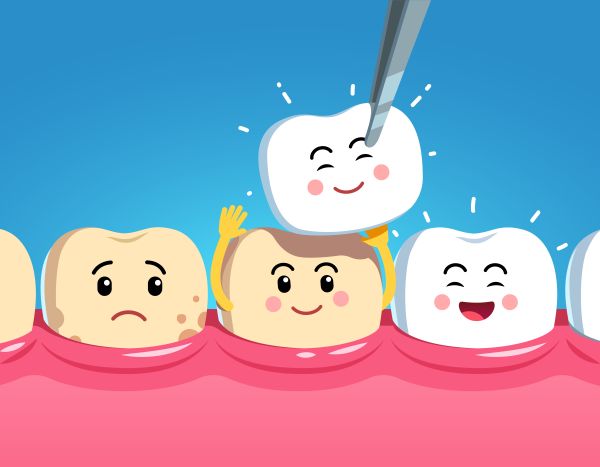 Dental crowns are a great way to restore teeth that are in bad shape, whether it be due to damage or decay. Thankfully, modern-day dentistry has allowed for the creation of many different types of dental crowns, ranging from gold to ceramic.
Dental crown options
Below is an overview of the different materials that dental crowns can be made of. When considering dental crowns, it can be helpful to review the following information.
Metal-based
The most traditional type of dental crown is metal-based, which is silver in color. Metal-based dental crowns are typically made of titanium, nickel, platinum and chromium. They are strong, reliable and very long-lasting, which is the main advantage of these dental crowns. However, one downside is that they are silver, which can draw attention to the mouth.
Gold
Another traditional type of dental crown material is gold. Gold dental crowns have been around for ages and with good reason. They are strong, reliable and can last upwards of 20 years if proper care is taken. Just like with metal dental crowns, gold ones also can draw attention to the mouth, which can be seen as a disadvantage.
Porcelain
A popular option for dental crowns is porcelain. Porcelain is a strong material that is commonly used in dentistry. It is white in color, which is advantageous for individuals seeking a discrete restoration. Porcelain dental crowns can last up to 10 years, so long as the individual practices good oral hygiene each day.
One dental crown option that utilizes porcelain is a porcelain fused to metal dental crown, which combines a metal crown with porcelain. The bottom portion of the crown is made of metal, while the top part is made of porcelain. The advantage of this option is that the base is strong and sturdy due to the metal makeup, but the top is white from the porcelain, which ensures discreteness.
Ceramic
Ceramic dental crowns are very similar to porcelain dental crowns, except the material is slightly different. Ceramic does last just as long as porcelain, however, the material base itself, is not as strong as porcelain. Additionally, ceramic is also white in color, which ensures a discrete restoration.
Composite resin
Another dental crown option is composite resin-based. However, these dental crowns are not recommended as often because composite resin is not very reliable. Typically, general dentists recommend composite resin dental crowns for temporary fixes, such as for children who still have baby teeth. Composite resin dental crowns are, however, affordable and able to be color-matched to the surrounding teeth.
Learn more about dental crowns
Want to find out more about dental crowns and the options that are available? Working with a general dentist is the best place to start. A general dentist can perform an evaluation to determine what dental crown material may be most appropriate. The evaluation will also get the process started for placing dental crowns. Reach out today to learn more or to get started!
Request an appointment here: https://claremontdds.com or call Claremont Design Dentistry at (909) 554-2188 for an appointment in our Claremont office.
Check out what others are saying about our services on Yelp: Read our Yelp reviews.
---
Related Posts
August 1, 2023
A smile makeover can come in many forms. While you may think of this mostly as something that restores the look and function of teeth, gums can pose problems too. A …