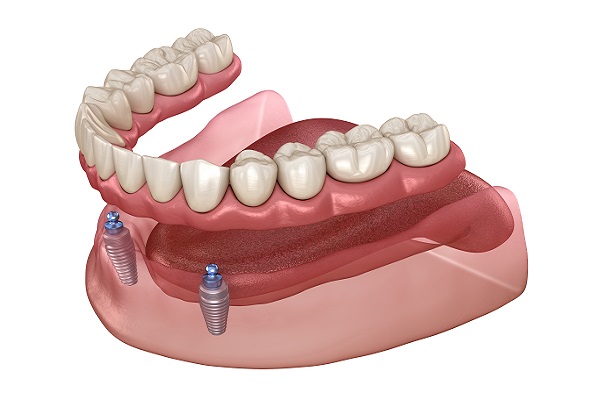 Wondering if implant supported dentures are the right for you? In order to make the right choice, it is necessary to understand everything there is to know about all types of dentures.
About implant supported dentures
Considering implant supported dentures but want to understand more about the details? This denture choice requires one to undergo a dental implant placement surgical procedure. This means the process of getting dentures supported by implants will take longer compared to other denture choices. When it comes to how many dental implants one will need to have placed, there are many different factors that come into play.
Placing implants to support implant supported dentures
In order for someone to be approved to get implant supported dentures, they first need to undergo a thorough dental examination. This is to check the overall health of their mouth, as well as to make sure that they have enough jawbone to support the placement of dental implants. Placing implants requires patients to undergo a minor surgical procedure, as the implants are inserted directly into the jawbone. Since placing implants requires minor surgery, patients can expect the healing process to last somewhere between three and six months.
Deciding how many implants are necessary
It is the dental implants that allow this type of denture to stay securely in place. This means that the more dental implants one has to support their dentures, the more secure they can expect their dentures to be. When it comes to how many implants are necessary to support dentures, it depends on whether a patient is in need of partial dentures or full dentures. It also depends on how dense one's jawbone is, as it may take more implants to provide a stable foundation for patients who do not have much healthy jawbone.
While many patients may only require two, three or four implants to support a strong foundation, others will need more implants placed. Some dental professionals will recommend that their patients get five or more implants to hold their lower dentures in place and six implants to hold their upper dentures in place. When it comes to how many implants that a patient can have placed at one time, there is not a limit. That said, there are a few factors to consider before undergoing a multiple dental implant placement procedure, e.g., post-surgical effects, etc.
Got questions?
Those who have questions can bring a list with them to their consultation appointment. One of the questions that dental patients need to ask is how many implants they will need to have placed in their mouths in order to experience the benefit of having dentures supported by implants.
Are you considering implant supported dentures in the Claremont area? Get more information at https://claremontdds.com.
Check out what others are saying about our dental services on Yelp: Implant Supported Dentures in Claremont, CA.
---
Related Posts
May 6, 2022
Implant supported dentures are a popular tooth replacement treatment option that combines dental implants and dentures. Because they combine two already existing treatments, individuals tend to experience extremely positive results, meaning little …